'The Kube', a fun game show based on the hugely popular ITV programme 'The Cube', is set to come to Ballinrobe – and the SOS has gone out for 36 people who wish to participate.
Contestants from the south Mayo / north Galway region will take part in the event at The Pavilion, Ballinrobe Racecourse, on Saturday, May 20, at 8pm. Admission will be €20, with family tickets (2 adults and 2 children) at €50, and the total prize fund is €1000.
All proceeds from the fund-raiser will go to the campaign to rebuild Ballinrobe Town Hall. The event is run by a professional Dublin-based company whose lighting, set design and general presentation will ensure a real party atmosphere – the event will feature a late bar and disco.
The search is on for 36 contestants to compete for the prize fund in the ultimate battle of skill and nerve.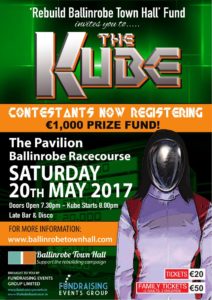 Each contestant will have sponsorship cards and a target of €300. They can also nominate a club or organisation – and the club or organisation that raises the most money will receive a donation of €250.
Clubs and organisations wishing to avail of 'The Kube' as their way of supporting the campaign to rebuild Ballinrobe Town Hall can do so by contacting the chairperson of the organising committee Pat McGovern (085 174 2082, patmcgovern3@gmail.com).
"Everyone is familiar with the TV show The Cube, hosted by Phillip Schofield. It can be a really exciting programme and with so many local people taking part here, we are expecting a night of fun, entertainment and high drama," said Pat.
The prize fund is broken down as follows: Overall winner – €750; Club or organisation that raises most amount of money – €250.
The major door-to-door fund-raising drive in Ballinrobe to rebuild the local Town Hall has passed the €155,000 mark – and now the committee are focusing on reaching the local contribution target of €400,000.
Ballinrobe aims to restore the old Hall, which closed in 1996.
"We estimate that we will receive between €800,000 and €900,000 in local and central Government and agency funding, which will require Ballinrobe to come up with approximately €400,000 to fund the project. The overall cost has been independently costed at just short of €1.3m," added Michael.
Anyone interested in supporting this major project should contact Chairperson Michael Sweeney (087 2588 615) or Secretary Siobhan O'Malley (087 207 2307).
Committee: Chairperson Michael Sweeney, Secretary Siobhan O'Malley, Treasurer Sean O'Connell, PRO Liam Horan, Michael Burke (Vice-chairperson), Rory O'Neill, Tony Walkin, Margot O'Shea, Mary Jackson, Marie O'Haire, Gwen Costello, Des May, Sheena Duddy, Clare O'Neill, Aidrienne Gleeson, Liz Kelleher, Cllr Damien Ryan, Cllr Patsy O'Brien.