The Wilde River Drama Group, recently formed in Ballinrobe, will perform Bookworms, a comedy by the Dublin playwright Bernard Farrell, in The Racecourse on Thursday, Friday and Saturday, October 20, 21 and 22, at 8pm.
All proceeds will be donated to the Campaign to Rebuild Ballinrobe Town Hall, for which we are extremely grateful.
We wish the group every success and urge locals to attend.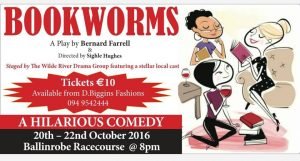 More on their Facebook page HERE